I get so many emails from the people who sign up for my free email course on how to be a freelance writer. And a lot of those emails ask the same question:
Is it really possible to be a mom and make money as a freelance writer?
The short answer is: YES. It is ABSOLUTELY possible. For the long answer, keep reading.
First of all, HI! I'm a mom AND I make money as a freelance writer. But maybe you think I'm the outlier. So, for today's post, I figured I would show you four other amazing moms who are also making money — really good money — as freelance writers.
These women aren't just inspirations — they've also put together a lot of super-practical advice that you should definitely follow.
Nikki at MBASAHM: Freelance Writing as Sanity Saver
Here's the thing: Nikki started out as a blogger because she wanted something outside of being a mom.
For Nikki, writing is
an outlet that lets me escape the hardest parts of the day – the times when you feel unproductive, flustered, lonely, or out-of-control.
If you've ever been at home with young children, you have undoubtedly felt that way at some point! As much as we love our kids, sometimes you just need to be YOU, not MOM.
In 8 Reasons All Stay-at-Home Moms Should Be Freelance Writers, Nikki shares a lot of wisdom, including these pearls:
Writing is one of the few outlets that doesn't require a lot of setup, accessories, or gadgets. It really truly can be done anywhere, anytime…and for as few minutes as you can spare.

You get to pick your specialty and you get to build your expertise.

You get to make a little extra money. And whether you need it or not, once you've given up a regular paycheck, it feels really good to earn something on your own.
Tweet: Pick your specialty and build your expertise. https://ctt.ec/7DUt5+ via @abbiperets
If you're even thinking a little bit about whether freelance writing could maybe be a cool thing for you to try, give it a shot. What's the worst thing that could happen? You'd find out you don't like it, or you wouldn't make any money, or… well, that's basically all that could go wrong. Which isn't much — and it's certainly not enough to keep you from trying, right?
Alexa at Single Moms Income: Freelance Writing to Pay Down Debt and Feed Your Family
First of all, all you single moms, my hat is off to you. I think you are AMAZING. My husband travels for work a lot, and when I am on my own with the kids, I am a MESS. And that's with the support of my husband's income — if not his physical presence!
In 2012, Alexa of SingleMomsIncome.com was a newly-divorced mom stuck in a day job that didn't pay the bills — and there were a lot of bills to pay.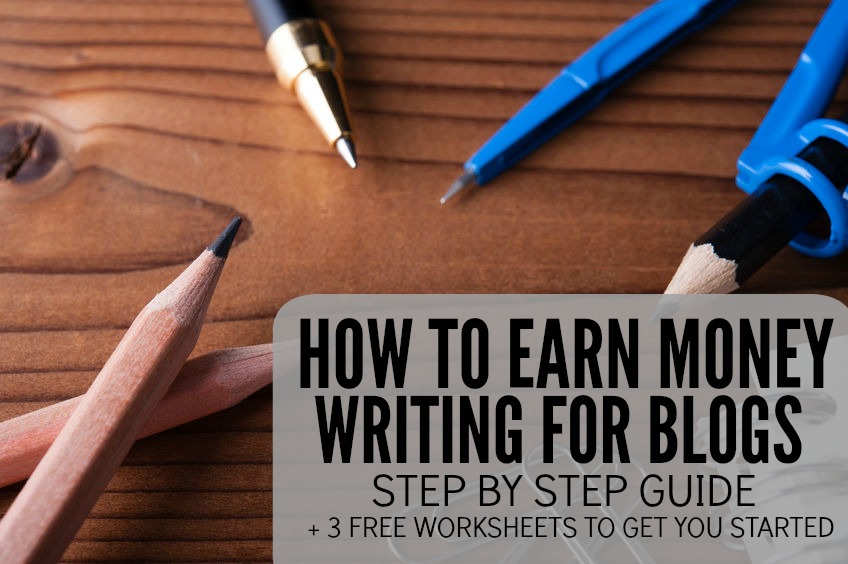 After a LOT of trial and error, Alexa figured out that freelance writing is an awesome, amazing way to make real money. Like $5,000 a month money, which for a mom working less than full time is fantastic. (Heck, it's fantastic for pretty much anyone!)
Alexa details all of the mistakes she made and provides stellar advice for newbies just starting out in her post, aptly titled How to Find Freelance Blogging Jobs if You're Starting From Scratch.
One of the big takeaways?
If you are a generalist it's going to be really hard to sell yourself to a client. Or at least, decent paying clients.

After pitching over a hundred different prospects I can promise you that the majority of small business and blog owners do not want writers who "kind-of" know what they're talking about. They want writers who know their niche.

Narrowing down your writing topics should be your first step. You need to, at least at first, choose topics that you have experience in.
So smart. So true.
Tweet: Know your niche! Small business owners don't want writers who "kind-of" know what they're talking about. https://ctt.ec/ED4Sy+ via @abbiperets
Sophie Lizard at Be a Freelance Blogger: Writing for Cold, Hard Cash
First of all, Sophie Lizard has the best name. In my head, I always refer to her by her full name. This could prove awkward if we ever meet up in person, but that's a chance I'm willing to take.
Sophie Lizard (see??? I can't help it!) is also a girl after my own heart. She's passionate about writing, but she also REALLY LIKES MONEY. Sophie Lizard, you are my internet bestie.
Anyway, Sophie Lizard got started when she was broke, homeless, pregnant — and she didn't have a job. So money was a MAJOR concern. Which is why Sophie Lizard (seriously, I can't help it) got really good at learning what to avoid in the freelance world.
She shares some stellar advice in Don't Be a Fool: How to Avoid Getting Played By Your Clients.  
For example:
A client who treats one freelancer or employee badly is likely to give everyone the same lack of respect, so investigate before you accept a gig.

Free trials are standard for clients who care more about cutting costs than about hiring the best blogger.

A good client… [doesn't] expect professionals to spend time writing free trial posts.
I couldn't agree more. In fact, this is one of the topics I'll be covering in my upcoming webinar.
Sophie (ha! I did it!) also hosts the fantastic — and free! — Be a Freelance Blogger Community Forum. If you're specifically interested in freelance blogging — which is different from freelancing for magazines or business writing for companies — this is an incredible resource, and you need to get over there, now!
Elna Cain: From Mom to Mompreneur
I get exhausted just reading Elna's posts. First of all, she has, like 57 different websites. Okay, maybe I've slightly exaggerated. But Elna maintains  TwinsMommy (Yes. She has TWINS. I think they are three years old now. I have no idea how Elna functions), Elna Cain, Write to 1K, AND Innovative Ink. And possibly more sites that I don't know about.
Seriously, this mama is AMAZING.
I particularly love her post on How to Improve Your Samples as a New Freelance Writer. Elna breaks it down into straightforward advice:
1. Take some time and research blogs in your niche.

2. Find topics that interest you.
And then she gives you these crazy detailed step-by-step instructions that walk you through the entire process, down to the headings you should use in WordPress.
Have I already mentioned that Elna is AWESOME?
How You Can Win The Freelance Game, Too
Yes, it is totally possible to be a mom and be a successful freelance writer — no matter what your motivation, no matter what your niche. And I want you to have this kind of success, too — which is why I'm hosting a totally free webinar this Thursday morning on how to use Upwork to find high-paying freelance writing work — and let the work come right to you!
If you've never heard of Upwork, it's a marketplace that matches freelancers with clients. Some people HATE Upwork, but I think that's because they don't know how to use it correctly. In the past four months, I've made over $5000 from Upwork on a handful of projects — and I really didn't do any work from December 15-January 15 when everybody shuts down for the holidays.
That $75 project? That was a client who wanted a sample. I don't do free samples, and he understood that. He told me to take 30 minutes and explain what I would do if hired. That time is valuable — because my work is valuable — and I got paid for it.
I regularly get paid $125/hour by clients on Upwork. Now, I don't know if you'll be able to start out at $125/hour, but I'm SURE that you can start out at $30 or $50/hour. That's what I want to show you how to do at this free webinar.
I'll explain how to use Upwork, how to make sure you attract the right clients, and how to avoid making newbie mistakes and getting scammed, and I'd really love it if you were there to learn all of these things.
I'm hosting a live Q&A about Upwork AND answering any questions you have about freelance writing in general! You can register right here, and even if you can't join the live webinar, you can view the whole thing afterwards at your convenience.
If you've been kicking around the idea of freelance writing, this free webinar is a great way to learn a little more, ask any questions you have, and maybe even land your first client! Hey, maybe next time I write about moms who are winning the freelance writing game, I'll be writing about you!